This week, we take a closer look at Ethereum, Ripple, Cardano, Polygon, and OKB.
Ethereum (ETH)
Ethereum had a great rally this past week but failed to break above the key resistance at $1,660. Nevertheless, the price still managed to increase by 7.4%.
the current PA shows that buyers are becoming eager, and the key resistance is being tested again and again. The more this happens, the likelier it becomes for ETH to break above and move higher.
Looking ahead, ETH has good support at $1,550, and the bias turned bullish due to this latest rally. If buyers continue to put pressure, then there might be a quick breakout to higher levels, which would take this cryptocurrency closer to the key psychological level of $2,000.
Ripple (XRP)
While Ripple also attempted to rally, it was quickly stopped by bears at the 40 cents resistance. For this reason, the price only registered a 1.4% increase in the past seven days.
The trend remains bearish for XRP, and buyers will need to push the price toward a higher high if they want to escape it. So far, this appears unlikely, and bears showed strength at the key resistance.
Looking ahead, buyers did defend this cryptocurrency well at the 36 cents support, and the price may continue to bounce between the key levels in the coming days until a decisive move happens.
Cardano (ADA)
Unlike XRP, Cardano managed to paint a higher high and, in the process, increased by 8.5%. This is a bullish signal which gives ADA a good chance to continue higher.
With considerable support at 38 and 36 cents, ADA is likely to put a lot of pressure on the current resistance at 42 cents, where so far, bears appear to have control.
Looking ahead, ADA's price action leans bullish. If this is maintained, then Cardano could quickly rally toward 50 cents.
Polygon (MATIC)
Polygon is determined to reach $1.5, which is also a key resistance after increasing by 16.5% in the past week. The current rally remains strong, and buyers appear in full control of the price action.
This latest push higher started once MATIC managed to break above $1.3, which is the current support. However, buyers need to be cautious as this latest move has created a bearish divergence on the RSI and MACD indicators.
Looking ahead, this cryptocurrency may be in the process of completing a fifth Elliot wave impulse toward $1.5. Once the key resistance is hit, a corrective phase could follow to put a break on this rally.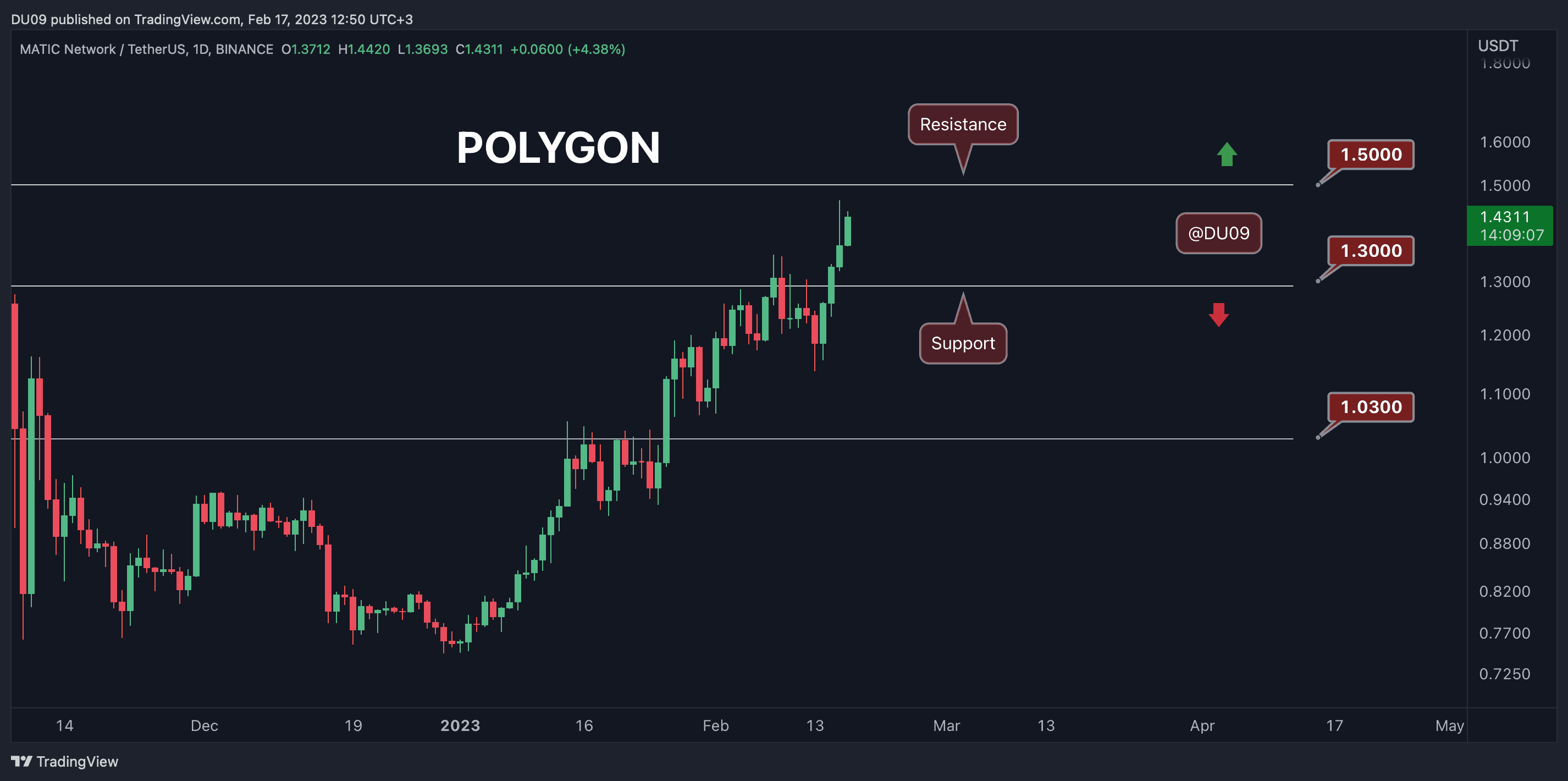 OKB 
OKB's price entered a non-stop rally for over two months now and booked a 26% increase during the past week alone, making it the best performer on our list.
After turning the $45 level into support, OKB's price quickly moved higher, and it seems possible for it to go above $50 at this rate fairly soon, where bears could attempt to make a stand. A likely candidate for that is the resistance at $56.
Looking ahead, OKB has entered price discovery after making a new all-time high that exceeded the one from May 2021 at $44.3. For this reason, this rally may still continue for some time until buyers lose momentum.
The post Crypto Price Analysis Feb-17: ETH, XRP, ADA, MATIC, OKB appeared first on CryptoPotato.